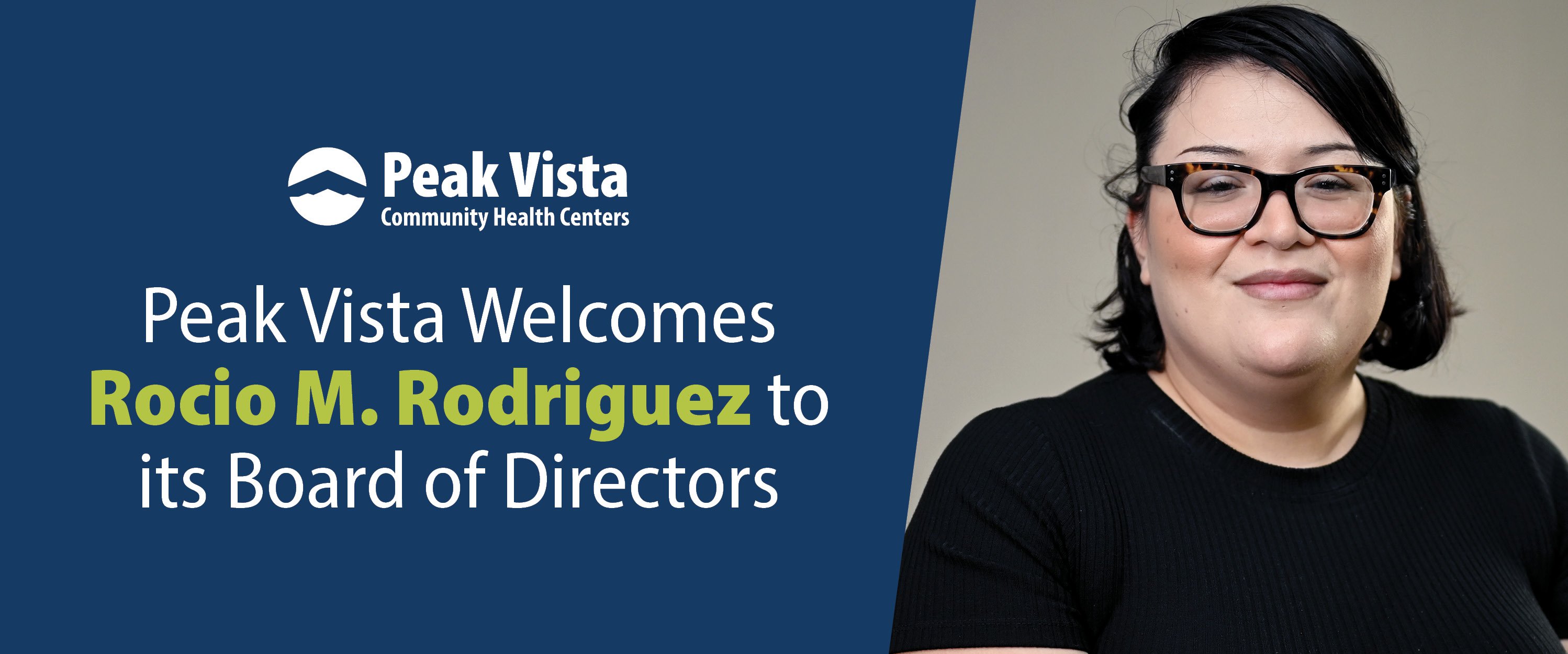 Peak Vista Community Health Centers (Peak Vista) announces the election of Rocio M. Rodriguez to its Board of Directors.
Rocio currently serves as the Memory Care Director at Jackson Creek Senior Living in Monument. Her entire career has been in healthcare, with most of her work in senior living communities. "I started working in a Senior Community as my very first job back in 2012," says Rocio. "Looking back, I am so grateful now that I took that job because it opened my eyes to the need there was for more qualified persons to help. It also gave me my first glimpse into caregiving."
Rocio was born in Monterrey, Nuevo León Mexico. She moved to the United States at age four and has lived here in Colorado Springs for 28 years. She grew up in the Knob Hill area of town and has called southeastern Colorado Springs her home for the past 10 years.
She earned both her bachelor's and master's degrees in health care administration from Ashford University and holds a minor in finance. She's also a certified nurse aide, having trained at the Nursing & Therapy Services of Colorado, and is certified as a Qualified Medication Administration Personnel (QMAP). Rocio is continuing her training in project management with a goal to receive a PMP certificate, and in the near future, she hopes to pursue a doctoral degree in health care administration.
"I have learned and continue to learn about the multiple facets of health care and am passionate about serving those around me and within my community," she continues. "I love that my career has taken me to different places where I have seen and learned about the different roles that members of the health care community play in ensuring patients receive quality-focused and compassionate care. I think this makes me a better patient as well."
In her spare time, Rocio says she most enjoys spending time with her children, learning from them every day. She also enjoys trying new restaurants and shops around our growing community, watching documentaries, and has been involved with a public speaking club and served as a hospice volunteer.
"Serving on the Peak Vista Board will allow me to advocate and speak for people like me in the community. It's a great honor to serve as a Patient-Member. I look forward to working with everyone at Peak Vista, and within the community, to grow the mission of Peak Vista."
Peak Vista's Board of Directors also includes Ray Nunn, Board Chairperson; Dr. Dennis Smialek, Vice Chair; Bill Sanden, Treasurer; Marianne Horvath, Secretary; Mary Lynn Sheetz, Member-At-Large; Dr. Robin Johnson, Immediate Past Chair; Santiago 'Bob' Duran; Jim Harris; Stella Hodgkins; Rev. Clifton Turner; David Fairley; Lelia Gibson-Green; and Fadi Youkhana.