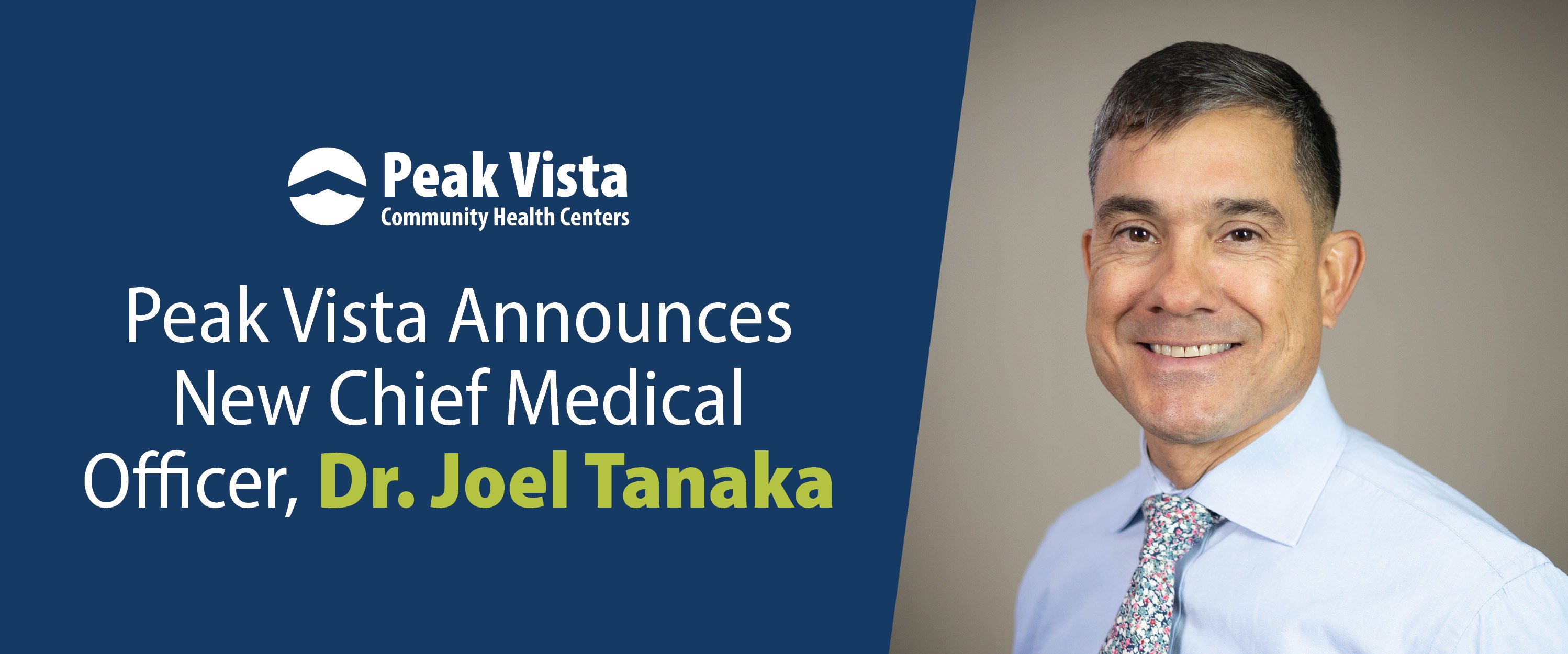 Peak Vista Community Health Centers (Peak Vista) is proud to announce the appointment of Joel Tanaka, MD as Chief Medical Officer (CMO).
Dr. Tanaka was selected following a national search, and ultimately chosen for his extensive clinical knowledge and relevant experience, deep understanding of the unique challenges facing Federally Qualified Health Centers (FQHCs), commitment to ensuring health equity and access, and unmatched passion for Peak Vista, its mission, patients, and staff.
"I am elated, honored, and thankful to serve as Peak Vista's Chief Medical Officer," says Dr. Tanaka. "I am looking forward to providing the leadership and clinical expertise to support our integrated clinical teams in their work to provide high quality, equitable, and trauma-informed, whole-person care to our patients throughout the Pikes Peak and East Central regions."
Dr. Tanaka joined the Peak Vista team in 2019 as the Senior Vice President of Medical Services and most recently served as Interim Chief Medical Officer and Senior Vice President, Health Equity & Community Education. He also currently serves as the Vice Chair of the El Paso County Medical Society's Board of Directors. Prior to joining Peak Vista, he served as a Medical Director of Primary Care at the Veterans Health Administration in Colorado Springs and held multiple leadership roles at Fort Carson, including Medical Director of the Warrior Transition Battalion, and 7th Infantry Division Senior Medical Advisor to the Post Commander.
In the wake of the repeal of "Don't Ask, Don't Tell" in 2011, Dr. Tanaka (then serving as the Chief of Primary Care at Evans Army Community Hospital), along with behavioral health and other hospital leadership, led a multidisciplinary, gender affirming team to meet soldiers' psychological, behavioral, and medical needs in a safe environment. He also provides acute and primary care to patients at multiple Peak Vista locations.
A Veteran and Board-Certified Family Medicine Physician, Dr. Tanaka earned his Bachelor of Science in Biological Sciences/Nuclear Engineering from the US Military Academy, West Point, and later his Doctor of Medicine from the Uniformed Services University of the Health Sciences, Bethesda.