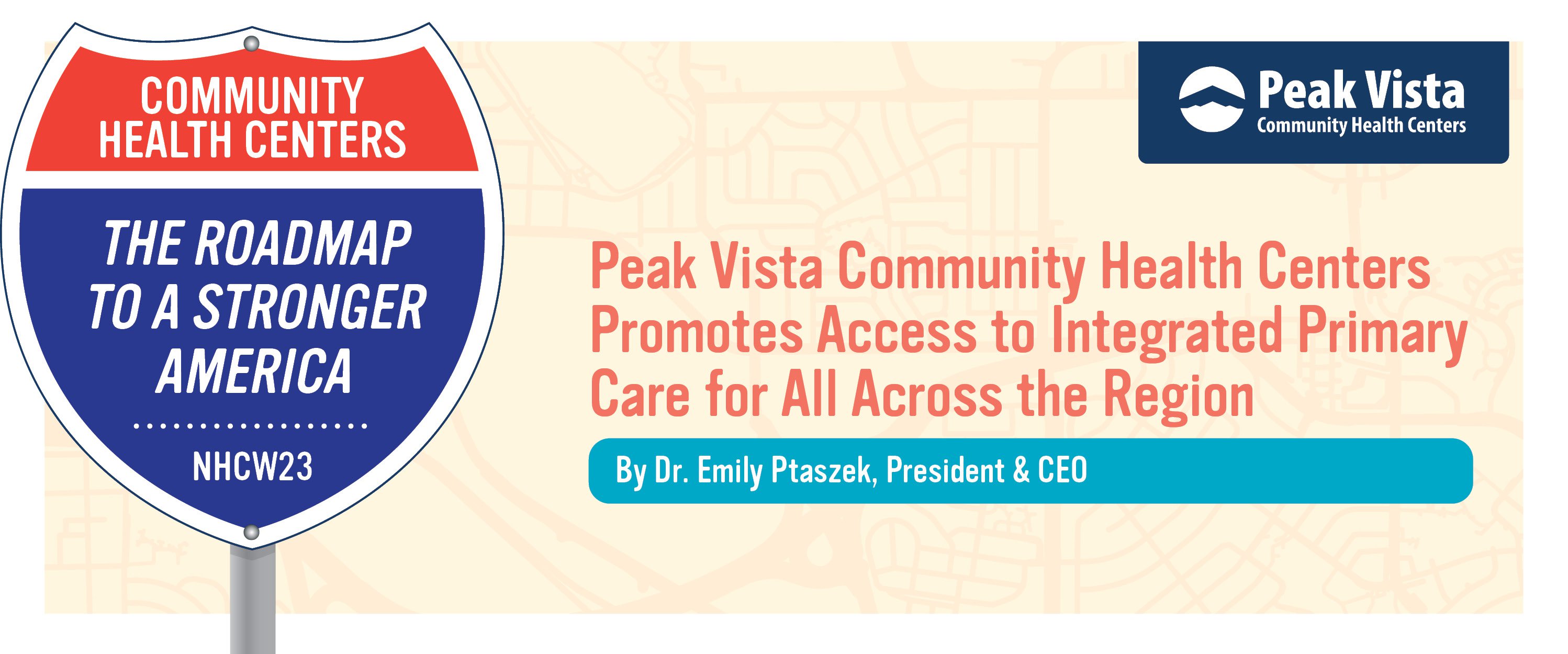 August 6-12 is National Health Center Week, an opportunity to celebrate the immeasurable value and long legacy of community health centers in providing high-quality, integrated health care. As the only Federally Qualified Health Center in the region, Peak Vista Community Health Centers (Peak Vista) provides comprehensive primary health care to people of all ages, regardless of health insurance status or ability to pay. At Peak Vista, primary health care means we treat the whole person by integrating medical, oral, and mental health into routine care delivery.
Federally Qualified Health Centers (community health centers/CHCs), exist largely to address the social determinants of health which impact health outcomes to a larger degree than what happens inside an exam room. These factors affect an individual's health and quality of life, including financial security, access to healthy food and affordable housing, community safety, and quality health care. Peak Vista's mission is to address those factors and provide exceptional health care to people facing access barriers through clinical programs and education.
And we aren't alone. There's a network of 1400 CHCs nationwide making primary health care available to everyone, from those with insurance to the under/uninsured. According to Colorado Community Health Network, 1 in 7 Coloradoans are served by CHCs and trust them as their health care home.
The CHC movement began in 1965 under President Lyndon B. Johnson's administration as part of the War on Poverty. Services were brought into communities where needed most to address the transportation, economic, and sociocultural barriers impacting access to care. From there, the national health center program was born.
Peak Vista was founded in 1971, and since then has grown from a volunteer-led organization seeing patients two days a week, to now providing comprehensive care to 81,000 patients across 22 health centers. Our service area runs from the front range to the Kansas border, encompassing 14 counties – a region comparable to the land area of Delaware and Vermont combined.
We believe in the imperative to be where the community needs us, and in partnership with other organizations, responding to continually changing needs as they emerge.
When the pandemic struck, we were one of the first vaccine providers in the community and ensured vaccine equity was a top priority. Since then, we've administered over 53,000 vaccines.
With every location in which Peak Vista operates considered a Health Professional Shortage Area for mental health, the need has never been greater to increase our ability to provide mental health services. We're rising to meet that demand, integrating mental health services into all locations and expanding our programs like our newly developed Psychiatric Mental Health Nurse Practitioner Fellowship Program.
To meet patients where they are and reach those without access to care, we're expanding mobile health service delivery, doing so with the same dedication to community partnership and quality whole-person care found within our physical locations. We're also increasing community outreach programs with a Community Health Worker team and programs to reach those experiencing homelessness.
According to the National Academy of Sciences, Engineering and Medicine, "primary care is the only health care component where an increased supply is associated with better population health and more equitable outcomes." For that reason, access to primary care for all must be a priority. That's why Peak Vista defines primary care differently, understanding that mental and oral health are integral to primary care.
We believe in the imperative to be where the community needs us, and in partnership with other organizations, responding to continually changing needs as they emerge.
A community's health is most profoundly impacted by the health of its most vulnerable residents, and alongside our community partners, Peak Vista is committed to the health of our region.