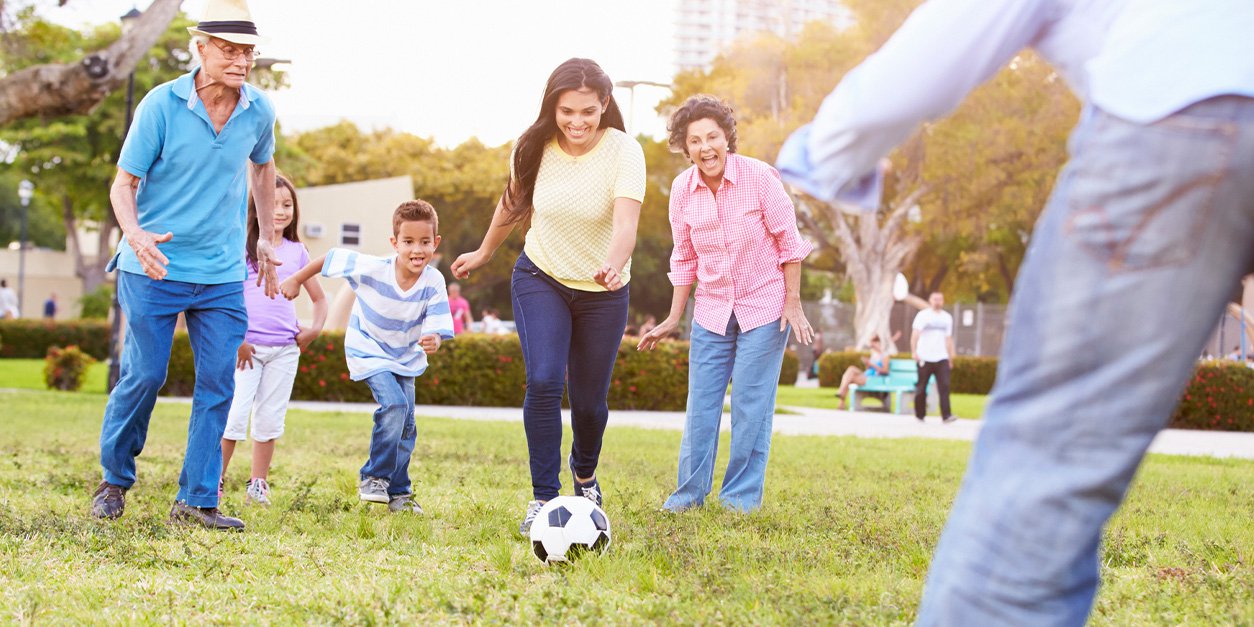 Families have had some tough challenges during the pandemic; staying indoors, home schooling while working from home and more. Mix that with limited activities for kids, closed indoor spaces, and  it's a good time to find new ways to be active together. If your normal routine has been disrupted, or you are just looking for a new healthy start for 2021, here are some great ways to get moving as a family.
Outdoors
Trails galore! Check out our local nonprofit Trails and Open Spaces Coalition online at trailsandopenspaces.org. Their website has a great page called Get Out Spread Out. There you'll find a map of the Pikes Peak Region with links to parks and trails. You can click on a location and see maps of nearby parks, along with pictures from the park to see if it would be a good fit for your family. Discover a new outdoor gem nearby or venture a little further with your family for a walk, hike, or bike ride!
Go old school with sports! Though many sports are not operating, a field and a Frisbee or soccer ball is a great way to get kids running, laughing, and out of the house! On a windy day, you could try to get a kite in the air.
Enjoy the snow! Growing up in Michigan, the winters here feel mild and sunny to me. But we do still get some snow and that can be hours of fun and movement for kids. Don't be afraid to bundle up and build a snowman, find a hill and go sledding, or enjoy the (socially-distanced) ice skating downtown Colorado Springs. For older kids, and a bigger adventure, your can rent snowshoes and head to the mountains to try walking in fresh snow.
Geocaching! If you haven't heard about this, 2021 is your year to give it a try. Download the app and find hidden geocaches right in your neighborhood. This is literally a worldwide treasure hunt, that is a lot of fun for kids and adults. Your phone will navigate you to find hidden treasures near you.
Indoors
Let's face it, sometimes its just too cold to go outside. Or, the kids need an energy boost between online classes. There are also some great options to help motivate kids (and us parents!) to move indoors.
7 Minute Monster This app gives 7-minute workouts for kids led by a fuzzy orange monster. There are free workouts and for $7 you get all the workouts. I showed it to some school-aged kids, and they got pretty excited. There's also an adult version to get us parents up and moving.
Super Stretch Yoga In this app an animated superhero leads kids through breathing and stretching exercises with fun animated characters and real kids doing the stretches. Turn off the webcam for a few minutes and join in between meetings.
Zombies, Run! Is there a kid alive that doesn't like zombies? This is a lot of fun. Take your phone with you and take a walk or run outside. This app will give you a story as you walk, and occasionally zombies will come chasing after you in the story, motivating you and the kids to run from the incoming zombies!
I hope this gives you some new ideas to try with your family to have a fresh, active start to 2021. Remember to wear your mask, stay 6 feet apart, and find new ways to have fun and be active together!